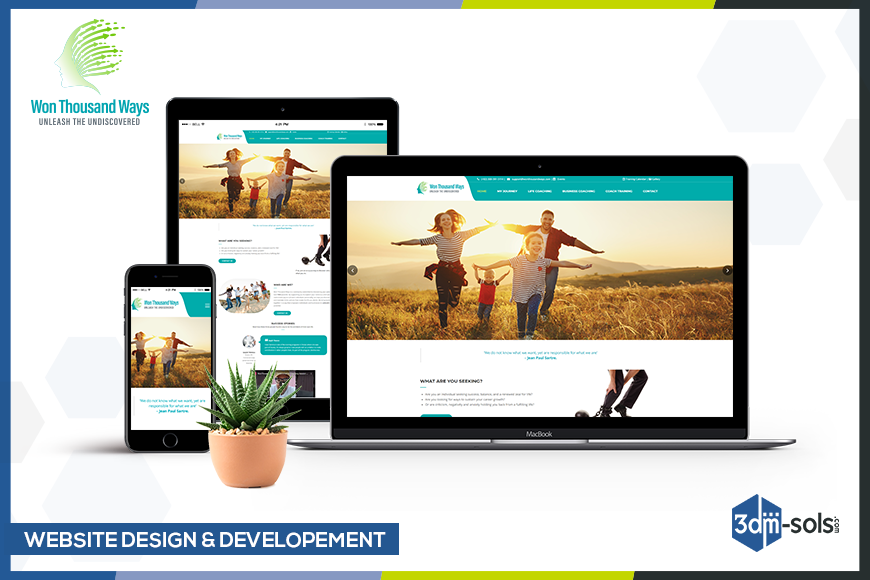 A Corporate Website for Won Thousand Ways
 It's 2021, and everyone knows how important it is for every business to have a web presence. This means that your company needs a corporate website. All corporate websites have a similar goal: to promote a brand and the services it provides. It is like a company's personal assistant or business development executive that a company owner hires to work 24/7 without days off.
3DM Solutions developed an interactive, pleasing and responsive corporate website for Won Thousand Ways. It helped them establish their business online and grab more clients.  The website features:
Appealing Website Design
Before development, we designed the website for our client. Using their logo colors, we created a theme that's appealing to the eyes and user-friendly.
Mobile-Friendly
The corporate website developed for Won Thousand Ways is made responsive on various devices, mobile-friendly, and has easy and helpful navigation along with proper call-to-action buttons.
Secure Cloud Hosting
3DM Solutions also hosts this website with a 128-bit SSL certificate to protect it against malware and intruders.
To get your corporate website developed, get in touch with us here.