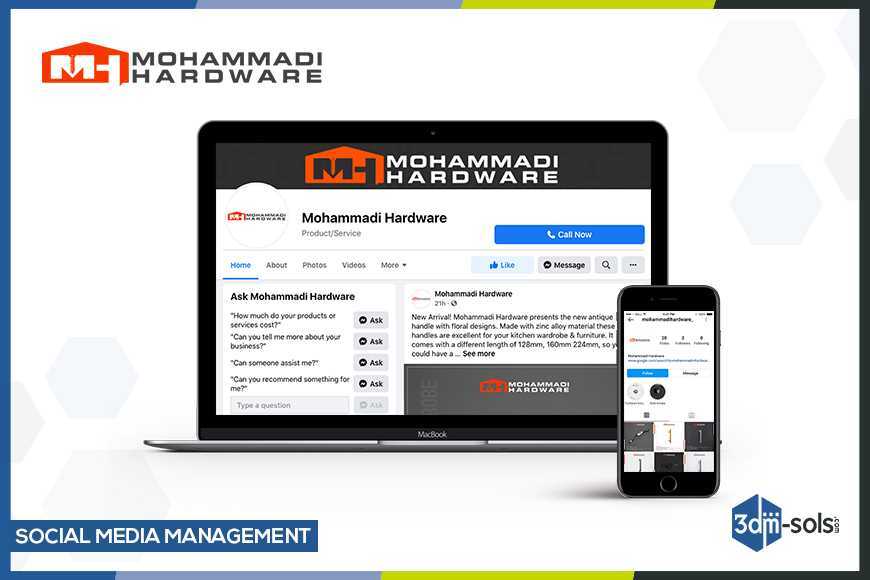 Social Media Management for Mohammadi Hardware
In a world where everything is going virtual and digital, especially the B2C businesses, how will you compete against your competition? The answer is simple – you adopt the digital way too. But it doesn't remain that simple if you have a whole business to handle and you are a newbie in digital marketing too.
You would require complete guidance and a proper team to establish an online presence for your business. That's why the social media team at 3DM Solutions is here for you! Here is everything we did for our client, Mohammadi Hardware:
Created Social Media Accounts
The first step towards social media marketing for Mohammadi Hardware was to create their account on Instagram and establish a Facebook page with proper information, cover photo, and display images.
Design Attractive Posts
Our expert designing team came up with an interesting and eye-catchy theme for Mohammadi Hardware. And designed posts to showcase their products. To our delight, we found our client quite happy with the work.
Increasing Engagement with Regular Posting
The team regularly posts on social media platforms with captions that feature all the details of the products. Our daily posting has helped us increased their digital presence.
If you are looking for a robust and efficient digital marketing service, get in touch with us here.