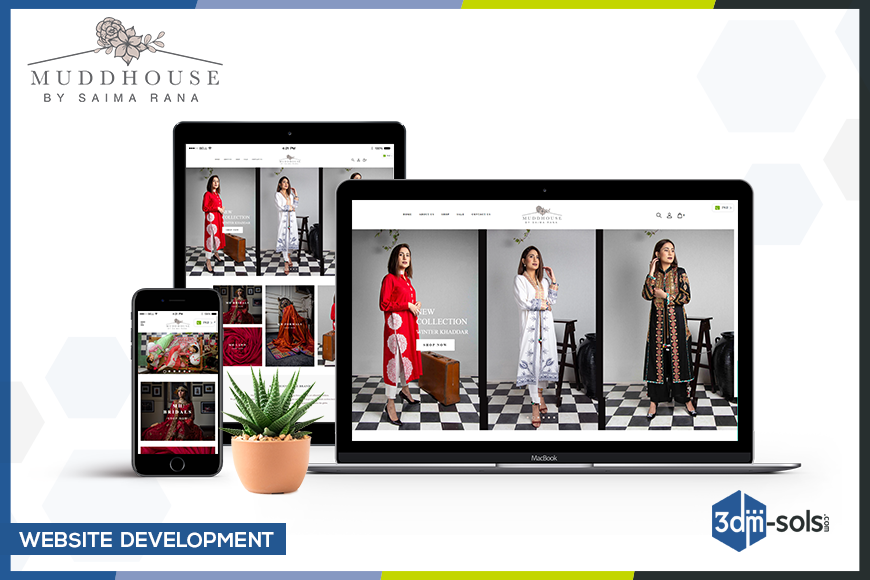 Website Development for Mudd House
eCommerce has proved to be a game-changer in the business world. Rather than selling products at walk-in stores, sellers have widely gone for online stores. The same was the case with Mudd House. When our client, Saima Rana, decided to relaunch her clothing brand her ultimate choice was to go online with the business. And we are gratified that she collaborated with 3DM Solutions for this purpose.
eCommerce Website on Shopify
3DM Solutions recommended for the eCommerce website to be developed on Shopify due to its quality and efficiency along with simplicity and rich features. Shopify is great for the stores that sell goods or services that need a minimal amount of configuration. This allows Mudd House to easily sell its products. They can also efficiently handle the orders and track them in different stages. Plus, Shopify gives them proper reports of their sales and performance too.
Efficient Professional Support
3DM Solution provided Mudd House with their quick and efficient services and gave professional support throughout the process. Whether it was choosing the right website design for the brand, making the website mobile-friendly, populating it with content, team 3DM kept the theme of the brand in high regard and developed the website accordingly.
Watch Client's Review