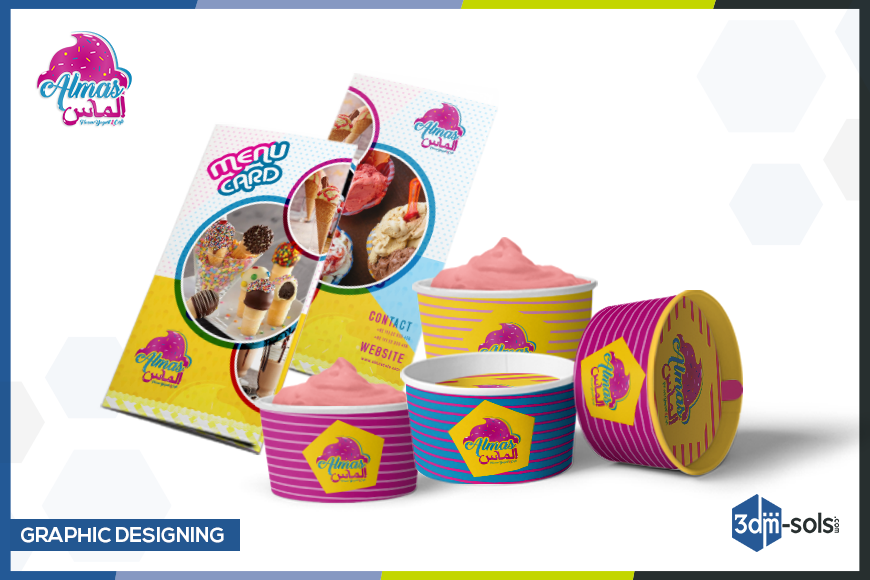 Graphic Designing for Almas Café
Branding is the process of connecting good strategy with good creativity. This indicated that your company's brand needs to be well designed and engaging. Excellent branding is especially important for emerging companies. The same applied to our client Almas Café.  It is an ice cream parlor, yogurt parlor, and café in KSA. When they were all set to compete with the big names in the industry through their quality product, they also decided to focus on branding.
This new ice cream and yogurt parlor came in contact with CreativeAlif, a subsidiary of 3DM Solutions,  to get a unique and visually appealing brand design that catches everyone's eye. Our team paid attention to the project and provided the following services in a good time:
Logo Design
An eye-catchy logo made with great care and analysis so that it communicates the identity of your business effectively.
Menu Card Design
A clean and beautiful menu card design that develops the interest of the customer in every item available on the card.
Product Packaging Design
Appealing packaging designs for ice cream and yogurt containers and other food boxes.
Stationery Design
Attractive brand stationery design that would stay in the customers' minds for long and make them come back for more.
Promotional Item Design
Compelling promotional item designs that grab the customers towards Almas Cafe.
If you are interested in building a strong brand identity for your business, connect with 3DM Solutions.