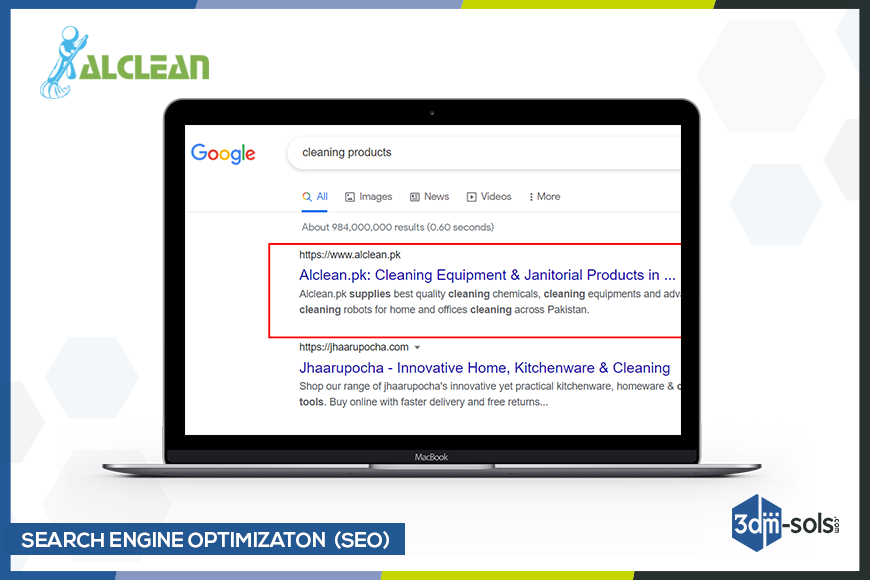 Search Engine Optimization for Alclean
At 3DM Solutions, we believe in giving results and achieving 100% success. Whether it's designing a website, developing it, deploying on the cloud, or optimizing it for the search engine, we excel at everything.
Not only we developed and hosted the website for alclean, but also enhanced their online business through digital marketing. Our robust SEO helped the website achieve ample recognition on search engines. Here's how we increased their presence by search engine optimization (SEO):
Keyword Research
Thorough research to understand the language of the target audience, and made the website on those keywords.
Competitive Analysis
The important key of SEO is to know what your competition is doing. We invested good time in competitive analysis for Alclean and saw what we could do better.
Update Metatags
Metatags make it easier for search engines to determine what your content is about, and thus are vital for SEO. We updated the heading tags, title tags, meta description, alt text, and other relevant tags.
Blog Writing
The blog writing includes regularly published articles on the website and offsite guest posting too. The blogs are relevant to Alclean's niche, include important keywords, and link back to the website.
The efforts of our marketing team have led Alclean's website to rank on the top of the first search engine in a good time.
Watch Client's Review