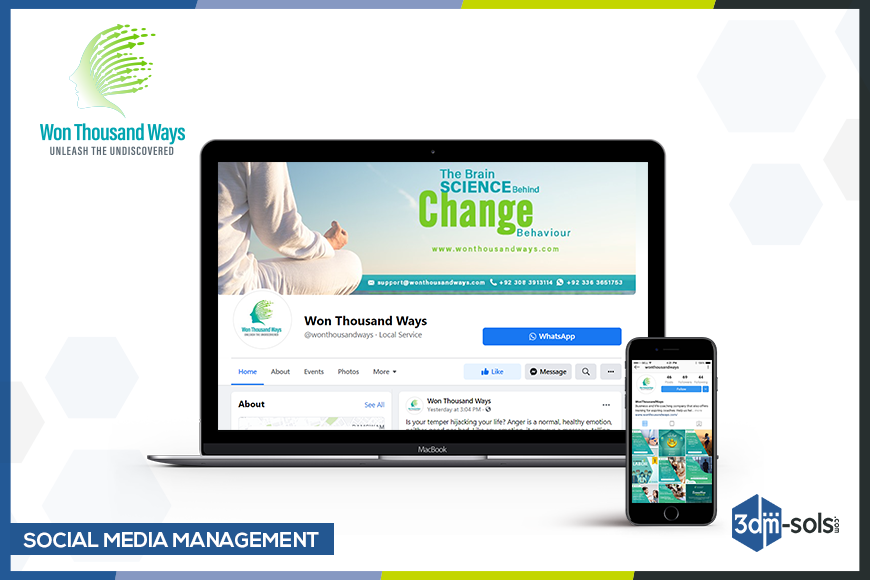 Social Media Management for Won Thousand Ways
Facts say that over 70% of customers are more likely to purchase your products or services after they follow you on social media. If you use social networking correctly, it can help you in many different ways, like generating leads and attracting new customers. But maintaining social networking sites, posting relevant content on all of them, and becoming popular among consumers takes a great deal of time and energy if you do it manually. And that's why you need to hire a proper social media manager or company. Just like our client Won Thousand Ways.
Handle Social Networking Sites
The digital marketing team at 3DM Solutions handles the social pages and accounts of Won Thousand Ways on Facebook, Instagram, and LinkedIn. We manage the content across the social networking sites, ensuring quality content on them.
Design Attractive Posts
Our expert designing team creates splendid social media posts relevant to their niche. All the posts that carry original content are made in accordance with the theme of our client's brand.
Populate Content
We frequently post on social media accounts and pages to keep the digital presence of Won Thousand Ways alive. The posting is done regularly on weekly basis, earning new followers and conversations.
To find about the website development of Won Thousand Ways by 3DM Solutions here.